AutoSSL is WHM/cPanel solution activated by default in your hosting account as it automatically installs and renews cPanel/Sectigo certificates for each domain in cPanel.
AutoSSL performs an automatic check of all domains and if necessary install new or renew the already installed cPanel/Sectigo certificates.
You can easily check, manage or exclude a specific domain from AutoSSL through cPanel » SSL/TLS Status.
How to enable AutoSSL / Free SSL in cPanel
1. Login to cPanel and select SSL/TLS Status.

2. Next, select Run AutoSSL.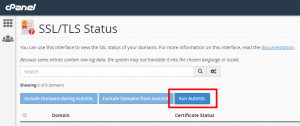 3. You may have to wait for 1 hour for the free SSL installation. Make sure to check the "+ Include during AutoSSL" under the chosen domain/subdomain in the list of domains.